How to Deal with End-of-Year Stress
As the months get warmer and summer draws near, teachers and students alike face an annual stressor: the end of the year. Everyone is hyper-aware of the last day and all they need to do to complete the school year: teachers make sure they have the time to finish their course, assigning and grading the last assignments, giving tests, and semester exams. Students make sure they have all their grades updated, assignments and homework done, tests and quizzes taken, and the final preparations for semester exams, EOCs, and AP tests. With this amount of school stress, and everyone's personal situation, it would be very helpful to students and teachers to know how to de-stress. I spoke with Madame Nall, a French and English teacher who has been teacher for 35 years to get her perspective.  
Brenlynn Terracciano: How do you deal with stress? Almost in general, but specifically for the end of the year? 
Madame Nall: I exercise, that's one of the big ones…my faith, devotionals. I try to remember why I got in this, because so many things that are frustrating are not the students. I try to remember they are what matters, that's what's important. So doing things with my friends and family, doing fun things, having outlets, and I don't overwhelm myself. And one of the ways I de-stress is just the connections I make with the kids that show their gratitude and appreciation. A school-life balance [is very important]. 
BT: What would you say to students who are struggling at the end of the year? 
MN: One thing I usually tell them is it is just grades in a high school class. One of the big things for me is for kids not to let a grade define them. [I would] tell students not to overburden themselves. I think it's good to have honors classes, AP classes, and challenging classes, but you should also live for now.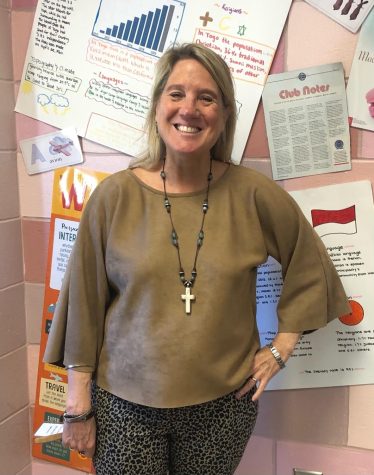 I also talked with Mr. Boozer, a regular and honors world history and AP human geography teacher who has been teaching for 25 years to get his perspective.  
Brenlynn Terracciano: Well, I imagine the end of the year would be more stressful for you being an AP teacher. How do you deal with end of the year stress? 
Mr. Boozer: Planning is the most important thing. That planning involves focusing on the most essential priorities. Sometimes that means letting go of things you want to do with your time to stay on schedule. Ultimately, that approach reduces stress and leads to greater satisfaction. 
BT: What is some advice you would give to an AP student who may be stressed with their AP classes? 
MB: While important, an AP score doesn't define your worth or value. The journey matters too. Just because your team loses the final game of a season doesn't mean the season itself was meaningless. I would encourage every student to prepare the best they are able to prepare. Generally, regrets are due to lack of preparation and effort. You can never really do enough but have the personal pride to give it the best effort you can.