The Weeknd – After Hours Review: Monthly Album Roundup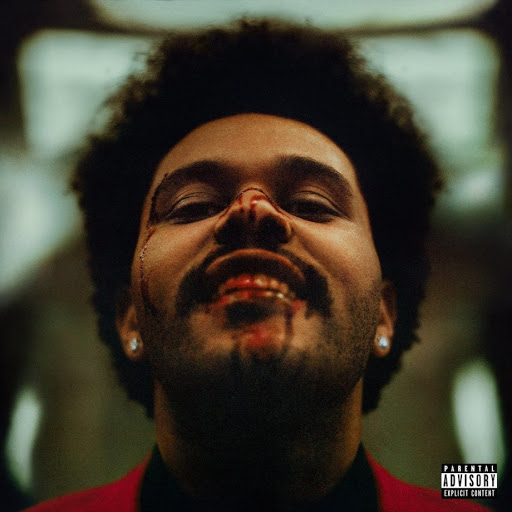 After Hours is The Weeknd's fourth studio album released March 20th, this year. The Weeknd is an alias for Abel Tesfaye's music career that's been going steady within the R&B/Pop genres since 2010. Releasing his first mixtape "House of Balloons" in 2011, and eventually his debut studio album "Kiss Land" in 2013.  His new album "After Hours" introduces some new elements to The Weeknd's signature sound that he has kept since his debut, which includes slow tempos, heavy bass, and spacey vocals.
The album kicks off at a very dark place with "Alone Again". Focusing on the topic of substance abuse in a relationship, leading to a feeling of loneliness and despair. This helps lay out the general dark tone of the album. As the album moves along, it begins to introduce new elements. Notable tracks like "Blinding Lights", and "In Your Eyes' create a smooth blend of R&B and 80's synth pop.  The main influences of synth pop being the classic 80's style synth sounds and a very drum-machine focused beat.  
The Weeknd also applies mellow moods to many of the tracks, as well as incorporating elements from many different genres. The album has strong diversity which lets it stick out within Tesfaye's catalogue because it displays him exploring many different sounds and genres. With a lot of tracks displaying a heavy vocal focus, and the sounds ranging from dark and light. The lyrics are generally focused on the topic of heartache and heartbreak, with many songs having a very gloomy atmosphere to reflect that. The album does an excellent job at making the feel of the music reflect the mood of the lyrics. Most notable track that displays the topic of heartbreak is "Hardest to Love". A song that reminisces failures of a past relationship and the singer realizing that he may have a bigger part in the breakup than past thought; Highlighted with the lyric "I've been the hardest to love", and "You're trying to let me go and I can see it". The album keeps a strong flow both lyrically and musically, by successfully staying true to its sound and theme. The thematic element being on the topic of love, touching base upon the positive, negative and situational aspects of it, which adds variety to the topic. Therefore, the album avoids repetition.
In conclusion, The Weeknd's new album is a major success for Abel's career. Fans and newcomers should be able to find something to enjoy from his new album. 8/10.